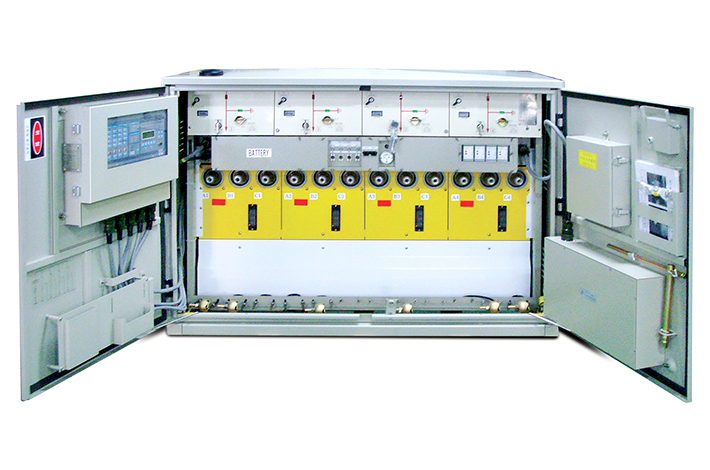 Solid Pad Mount Switchgear
Entec's Solid Pad Mount Switchgear is designed for the application in underground lines for voltage classes up to 15kV and 27kV, with the combination of Circuit Breaker(CB) and Load Break Switch(SW).

CB part is operated by a permanent magnetic actuator with vacuum interrupter for arc quenching. SW part is operated by spring toggle mechanism providing independent quick closing and opening operation.

The bushings are made of HCEP(Hydrophobic Cycloaliphatic Epoxy) that provides excellent insulation performance even under harsh climatic environments and polluted areas. The epoxy molding structure allows easier maintenance.

Two types of microprocessor-based controls can be applied for the automatic operation: ETR102/104, which is a dual protection relay for metering and monitoring, and ETCCU104, which has built in RTU with communication, metering, monitoring, and recording functions. The switchgear has been fully type tested by accredited laboratory such as KERI according to the international standard ANSI 37.60 and the specification of KEPCO.
Eco-friendly and Operational Safety
-
Explosion free by gasless application
-
Environmentally friendly product with no SF6 Gas
-
Maintenance free by epoxy molding structure
Advanced Reliability of Operation
-
Separate main switch and earthing switch with safety interlock
-
Manual / Automatic operation available
-
Remote and local operation available via SCADA system
-
Embedded partial discharge monitoring(local/remote)
Other Technical Features
-
Current Transformer : 1000 :1 ratio
-
CVD : Capacitive Voltage Divider(2.5% - standard)
RVD : Resistive Voltage Divider(1% - option)
-
48 hours operation at fully charged battery without AC supply input
-
Live line status indicator on each circuit for safety
Reference project