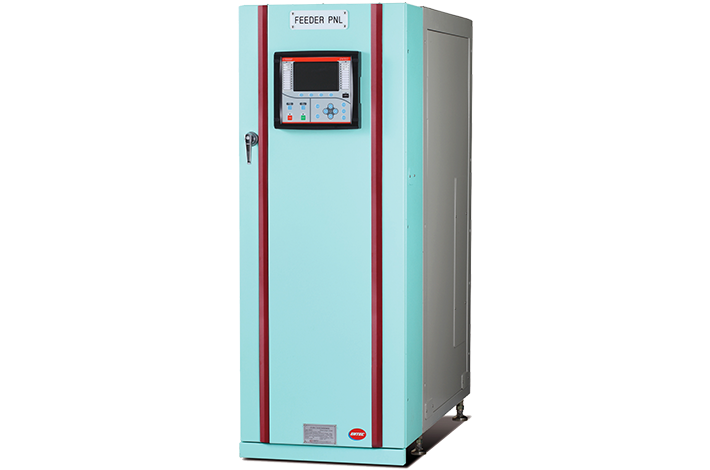 Solid Insulated Secondary Switchgear
(ENSIS)
Entec's Secondary Switchgear (ENSIS) is designed for distribution automation system with the combination of different panels such as Circuit Breaker(CB) , Load Break Switch(SW), MOF, and PT, etc. The modular structure of various panels makes the distribution line system more flexible.

The operating mechanism uses a permanent magnetic actuator that guarantees high reliability and maintenance-free operation. It uses vacuum interrupters encapsulated in epoxy bushings for arc quenching, eliminating the need for the insulants such as oil and gas.

The main parts of the interrupter are completely molded with HCEP (Hydrophobic Cycloaliphatic Epoxy), which drastically reduces the danger caused by exposed conductors in conventional Metal Clad Switchgear. It is also a maintenance free product by not using the SF6 gas, which needs periodical maintenance due to gas leakage and refilling.

The ENSIS is supplied with a microprocessor-based control with, metering, monitoring, recording and communication functions.

The ENSIS has been fully type tested by KERI, the accredited laboratory according to the international standard IEC 62271-1, 62271-100, 102, 103, 201, 200.
HECP (Hydrophobic Cycloaliphatic Epoxy)
-
Advanced outdoor solid dielectric material
-
Prevention of internal short circuit due to complete molding of main parts
-
No exposed conductor guarantees operator's safety
-
Environment-friendly, Oil/SF6 gas free
-
Reliable and enhanced life expectancy
Advanced Reliability of Operation
-
Magnetic Actuator with simple mechanism increases reliability of operation
-
Minimized moving components allows maintenance free operation
-
Reduced installation and operating cost
Installation Environment
-
Compact Size : 52% reduced installation space compared to Metal Clad Switchgear.
-
Operating Temperature: -30°C to 40°C
Other Technical Features
-
Separate main switch and earthing switch with safety interlock
-
Automatic Load Transfer Switch allows high speed switching within 1 cycle in case of main source shut down, which drastically minimizes outage period
-
Voltage loss and recovery monitoring provided
Reference project