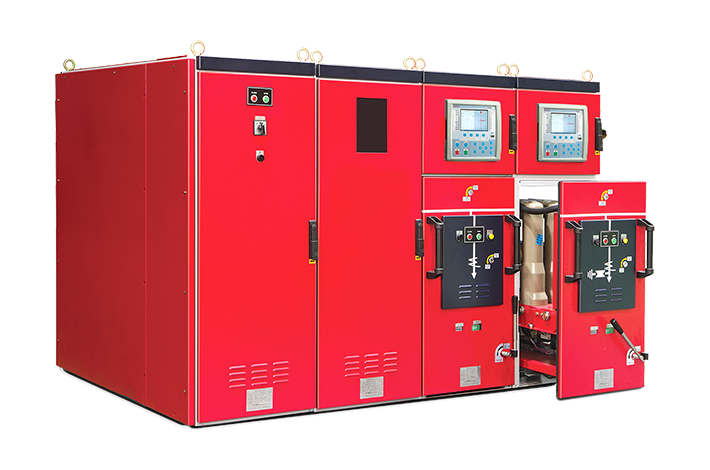 Draw-out Solid Insulated Switchgear
(D-SIS)
Entec's Draw-out Solid Insulated Switchgear (D-SIS) is designed for the application in substation and power plants for medium voltage lines. The product achieves maximum 38% reduction in installation space compared to conventional metal clad switchgear.

The operating mechanism uses a permanent magnetic actuator that guarantees high reliability and maintenance-free operation. It uses vacuum interrupters encapsulated in epoxy bushings for arc quenching, eliminating the need for the insulants such as oil and gas.

Main circuit and busbar are HCEP(Hydrophobic Cycloaliphatic Epoxy) molded, and independent solid insulation for each phase prevents 3-phase short-circuit. The mechanical interlock between VCB and DS increases operational reliability.

The D-SIS is supplied with complete microprocessor-based control(ETR500) including metering, monitoring, recording and communication functions. Protection relays of other brands are also compatible.

The D-SIS has been fully type tested by accredited laboratories such as KERI according to the international standard IEC 62271-100 and 200.
HECP (Hydrophobic Cycloaliphatic Epoxy)
-
Advanced outdoor solid dielectric material
-
Individual phase molding preventing from short-circuit incident
-
Reliable and enhanced life expectancy
Advanced Reliability of Operation
-
10,000 times of operation guaranteed
-
Magnetic actuator with simple mechanism increases reliability of operation
-
Maintenance free owing to minimization of moving components
-
Reduced installation and operating cost
Installation Environment
-
Easy for maintenance and repair with draw-out VCB
-
70% reduced installation space compared with MCSG
-
Convenient Extension allows flexible configuration
-
Operating Temperature: -10°C to 40°C
Other Technical Features
-
Mechanical interlock between CB, DS and ES to ensure operator safety
-
Dual protection by Earthing switch with disconnector during maintenance
-
High speed switching within 1 cycle by Automatic Load Transfer Switch
-
Voltage loss and recovery monitoring provided
-
Draw-out typed VCB for easy maintenance
Reference project