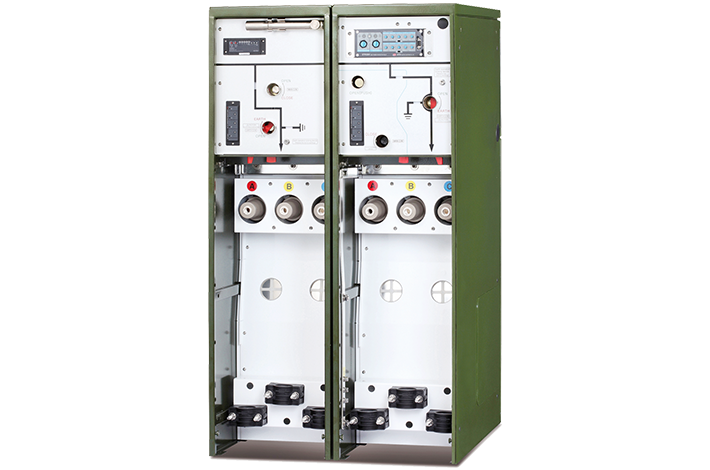 Solid Ring Main Unit (SRMU)
Entec's Solid Insulated Ring Main Unit(SRMU) is designed for the application in underground distribution line of voltage class 12kV. Its extensible and modular structure provides maximum flexibility to the customer with various configurations of Circuit Breaker(CB), Load Break Switch(SW), and Fuse-switch.

The operating mechanism is spring charged for CB, and spring toggle for SW and Fuse-switch. Minimum number of mechanical parts allows long lifetime service with cost effectiveness. Using the vacuum interrupter allows high reliability of breaking capability.

Internal part of SRMU is completely insulated with HCEP(Hydrophobic Cycloaliphatic Epoxy), for clean and green application, and providing safety to operators. SRMU with enclosure protection degree of IP 55 prevents the operating units from environmental influences.

The SRMU can be operated as a manual type using ETR20H Self-Powered protection relay, or as an automatic/motorized type using ETR304/306 multi-circuit protection relay which is capable of metering, monitoring, recording, and communication.

The SRMU has been fully type tested by accredited laboratories such as KERI according to the international standard IEC 62271-100,102,103 and 200 etc.
Eco-friendly and Operation Safety
-
Epoxy molded internal structure leads to clean and green application
-
No chance of gas leakage or explosion
-
Separate main switch and earthing switch with safety interlock
-
Dual protection by Earthing switch with disconnector during maintenance
Maintenance Free and Modular Structure
-
Minimum number of mechanism part allows long life time service with cost effectiveness
-
Fully enclosed housing prevents environmental influences affecting the operating unit
-
Maximum flexibility with various configuration of CB and SW modules.
-
Easy installation and expansion of modules through bus bar extension kit
Advanced Reliability of Operation
-
2,000 times of operation guaranteed
-
Manual / Automatic operation available
-
Remote and local operation available via SCADA system
Other Technical Features
-
Live line status indicator on each circuit for safety
-
Contact status indication through mimic diagram
-
Reclosing function available with pre-charged mechanism
-
"T" elbow connector (Plug-in type) for high voltage cable connection
Reference project