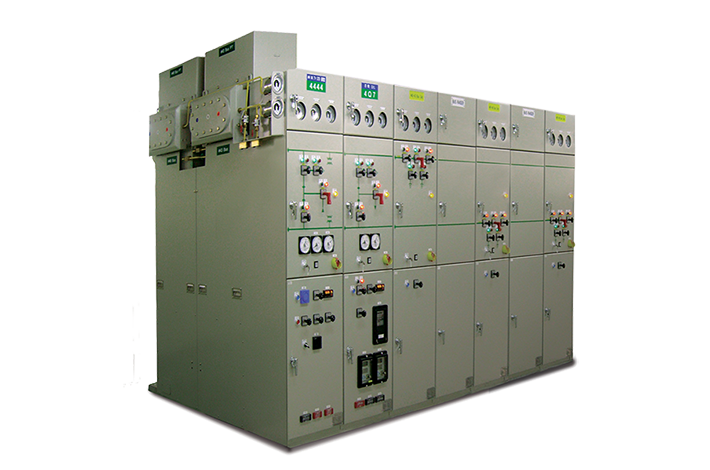 Cubicle Type SF6 Gas Insulated Switchgear
(C-GIS)
Entec's Cubicle Type SF6 Gas Insulated Switchgear(C-GIS) is available with single busbar(S-GIS) and double busbar(D-GIS). Both are designed for the application in substations and power plants for medium voltage lines. D-GIS comes with main panel, S.Tr panel, feeder panel, bus-tie panel and sectionalizing panel, while S-GIS is available with Auto Load Transfer Switch (ALTS) panel, main panel, Metering Out-fit (MOF) panel, PT panel, and Feeder panel.

The operating mechanism uses a permanent magnetic actuator for the circuit breaker that guarantees high reliability and maintenance-free operation. Spring toggle mechanism is used for the disconnecting/earthing switch. In addition, Automatic Load Transfer Switching(ALTS) function is available with 1 Cycle of load transferring time.

The C-GIS is completely metal shielded and all live parts are assembled inside of cubicle tank where filled up with SF6 gas. Gas level monitoring and high pressure relief device for abnormal pressure are also available.

The C-GIS is supplied with complete microprocessor-based controller(ETR500) including metering, monitoring, recording and communication functions. Other manufacturer's protection relay can also be used upon customer request.

The C-GIS has been type tested by accredited laboratories such as KERI according to the international standard IEC 62271-101, 102, 200 and 201.
Advanced Reliability of Operation
-
10,000 times of operation guaranteed
-
Magnetic actuator with simple mechanism increases reliability of operation
-
Maintenance free owing to minimization of moving components
-
Reduced installation and operating cost
Installation Environment
-
Completely metal shielded and all live parts assembled inside the cubicle tank filled with SF6 gas
-
Rated gas pressure: 0.03MPa.G at 20℃
-
Operating Temperature: -30°C to 40°C
Other Technical Features
-
Mechanical interlock between CB, DS and ES to ensure operator safety
-
Dual protection by Earthing switch with disconnector during maintenance
-
Automatic Load Transfer Switch allows high speed switching within 1 cycle in case of main source shut down, which drastically minimizes outage period
-
Voltage loss and recovery monitoring provided
-
Gas pressure monitoring device available