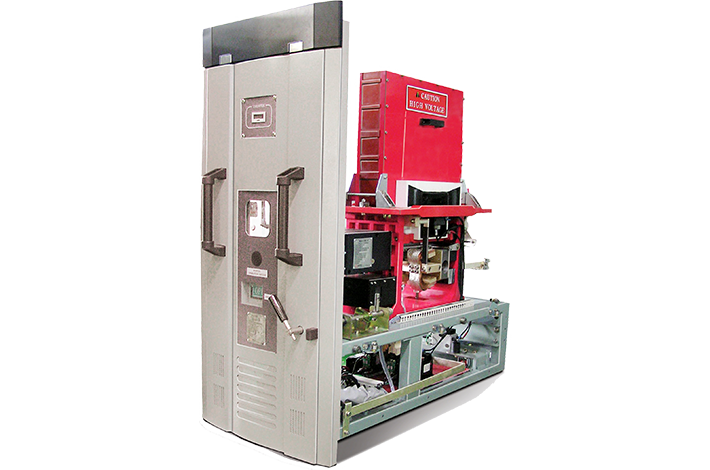 High-Speed Circuit Breaker
(HSCB)
Entec's DC High-Speed Circuit Breaker (HSCB) symbolizes our advanced technology in DC interrupting. Entec's HSCB(EDB-09 and EDB-18) is used to manage DC Power Feeding line and interrupts the fault current. EDB-09 has rated voltage of DC 900V for light weight railway system while DC 1800V rated EDB-18 is used for urban and heavy rail system.

Electrical tripping, and electrical holding or PMA(permanent magnetic actuator) holding mechanism simplify the HSCB's structure significantly and thus improve the reliability and decrease the difficulty of maintenance even under frequent switching and heavy load condition.

Materials with high conductivity are used to minimize the resistance and temperature increase in normal current condition, and the special metal alloy is used to prevent the HSCB contact from melting/welding during short-circuit current breaking.

HSCB is often installed as a key component in Entec's DC Switchgear, and the protection relay ETCPU200 is developed to maximize Entec HSCB's advantages. Together with ETCPU200, HSCB can interrupt current from 0A to rated interrupting current.

This HSCB has been fully type tested by accredited laboratories such as KERI and IPH according to the international standard IEC 61992.
High Durability and Reliability of Operation
-
Over 40,000 times of operation guaranteed with PMA mechanism
-
Guaranteed high speed overcurrent tripping
-
Interrupting from 0 to rated making and breaking current
-
Quality assurance by international authorized laboratories [IPH CESI, KERI] type tested
-
Sufficient current and thermal capacity with 85℃ or lower under normal conditions
-
High insulation capacity to ensure personnel safety