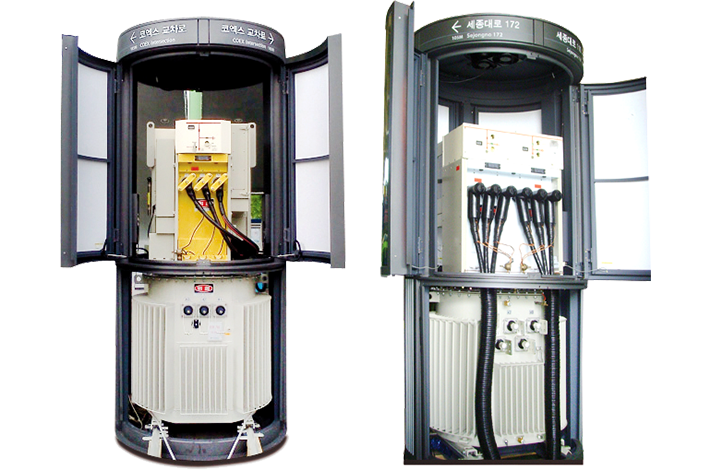 Compact Secondary Substation
(CSS)
Entec's Compact Secondary Substation (CSS) is designed for the application in underground lines for voltage class of 25.8kV. It consists of Circuit Breaker, Load Break Switches and a step down transformer.

The operating mechanism uses a Permanent Magnetic Actuator(PMA) for the Circuit Breaker and spring toggle mechanism for the Load Break Switch. It uses vacuum interrupters encapsulated in epoxy bushings for arc quenching, eliminating the need for the insulants such as oil and gas.

The main circuits are insulated with HCEP(Hydrophobic Cycloaliphatic Epoxy) that provides excellent insulation performance even under harsh climatic environments and polluted areas.

The CSS can be supplied with complete microprocessor-based controller(ETMFC303) including metering, monitoring, recording, and communication functions.

The CSS has been type tested by KERI according to the international standard such as IEC 255-5, IEEE 62.41, IEEE C37.90, IEC80255-21-2 and IEC60255-21-2.
HECP (Hydrophobic Cycloaliphatic Epoxy)
-
Advanced outdoor solid dielectric material
-
Proven performance in heavily polluted area
-
Environment-friendly, Oil/SF6 gas free
-
Reliable and enhanced life expectancy
-
Superior surface arc tracking resistance
-
UV Protection, resistant to vandalism
Advanced Reliability of Operation
-
Magnetic actuator with simple mechanism increases reliability of operation
-
Maintenance free owing to minimization of moving components
-
Reduced installation and operating cost
Installation Environment
-
Maintenance-free due to Solid dielectric main circuitt
-
Highly compact size of substation
-
Operating Temperature: -30°C to 70°C
Other Technical Features
-
Transformer Capacity: 500kVA