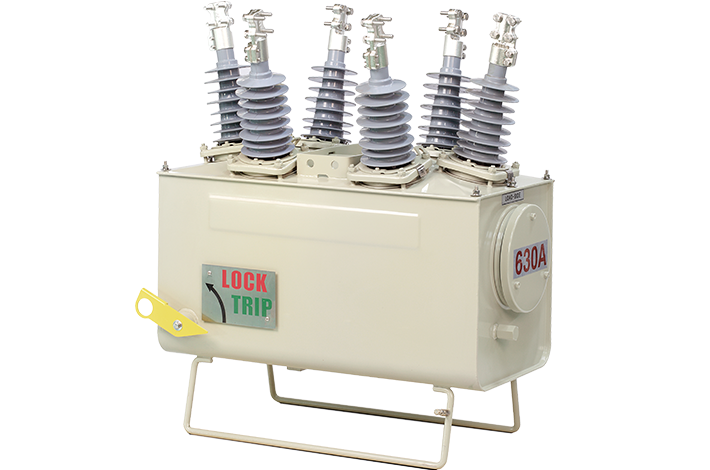 SF6 Gas Automatic Circuit Recloser
Entec's Three-Phase SF6 Gas Automatic Circuit Reclosers(EVR-1, EVR-2, EVR-3) are designed for the application in overhead lines and substations for voltage classes up to 15.5kV, 27kV, and 38kV.

The operating mechanism uses a permanent magnetic actuator that guarantees maintenance-free operation. The vacuum interrupters for arc quenching ensure high reliability.

The bushings are made of epoxy with silicone rubber housing. The Recloser tank and control cubicle are made of stainless steel, which have strong endurance against hot, humid, dusty, or corrosive environment.

The Recloser is supplied with complete microprocessor-based controller(ETR300-R or EVRC2A-NT) including metering, monitoring, recording, and communication functions.

The Recloser has been fully type tested by accredited laboratories such as KEMA, CESI or KERI according to the international standards ANSI C37.60 and IEEE 62271-111.
Magnetic Actuator
-
10,000 times of operation guaranteed
-
Enhanced reliability by eliminating the mechanical latches
-
Maintenance free due to minimized moving components
-
Installation and operation at less cost
Installation Environment
-
Pole/Substation mounting available
-
All accessories included such as control power cable, mounting bracket etc.
-
Operating temperature: -40°C to 80°C
Other Technical Features
-
RVD : Resistive Voltage Divider (1%)
CVD : Capacitive Voltage Divider (2.5%)
-
Manual trip operation available
-
Hundreds of open/close operations with fully charged battery(18AH/30HOURS) in case of AC supply input loss
-
CT ratio covers full protection range
Reference project